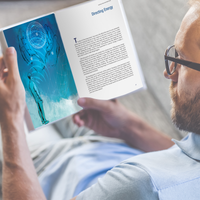 The Benifits of Directing Energy
The idea of "directing energy" may seem a bit odd at first since it is not commonly spoken about using that phrase. It may conjure up all sorts of movie scenes or other ideas that are out of context here. The term was selected to describe a very simple action in a no non-sense way. Energy is what makes the body go and has many phrases to describe it, such as: "a high energy person," "putting passion and energy into your work", "feeling the energy," "Lack of energy." These phrases describe different moods and feelings, but they all describe a force generated in a person. Energy is simply a force that is used to make things happen.
The Mechanics of Advanced Meditation Blog
Journals & gifts for your meditative journey.
After reading "The Mechanics of Advanced Meditation," I put into practice the exercises, it works in controlling with the pain I feel from an old gym injury!

Marie F.
The methods are sound principles presented here and a good alternative for dealing with physical pain. I recommend it to my patients.

Dr. James K.
This book is excellent in helping improve meditation; I am learning more techniques with the exercises.

Ron B.